| | | |
| --- | --- | --- |
| | | I've helped hundreds of people get into fantastic shape by teaching them what to do to get stronger, leaner and how to alleviate their back, neck and shoulder pain. |
| Dot Spaet | | |
I had my own horror story with back pain, developing sciatica at some point and not being able to walk, stand, or sit. I figured out how to resolve this using my engineering background and much studying. Today I am happy to be pain-free and feel very gratified to be able to help others get to pain-free and live a full life again.
Dot holds certifications in:
Personal Training
Yoga
Pilates
CORE Conditioning
Strength Training for Seniors
Stretching
Flexibility Coaching
Functional Muscle Training
Sports Performance Nutrition
Advanced Weight Management
Join the Fitness by Dot Team!
For your FREE cutting edge fitness tips
sign up here to join our email list
* Receive exclusive discount coupons
* Be the first to be notified of upcoming workshops and classes
FitnessByDot will not sell, rent or distribute your email address to any other companies.
When I'm not busy helping people become pain-free, stronger and more flexible, I can be found working out, doing yoga, taking workshops, reading, walking or partner dancing.
A Certified Personal Trainer, I am a member of the International Fitness Professionals Association. I am also a nutrition specialist, yoga instructor, Pilates instructor and strength trainer for seniors.
My clients include the CEO of Anchor Steam, the former CEO of the international company Marin Bikes, and the author of book and Hollywood screen play "Bastard out of Carolina."
Above all, I'm a resource for you to help you get to your next level of fitness, especially solving back pain problems.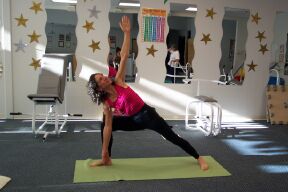 &nbsp&nbsp&nbsp&nbspFollow me on Facebook!
&nbsp&nbsp&nbsp&nbsp